By Deb Murphy
"The Fairgrounds are not bankrupt. There are challenges but there've been tougher challenges," was the way former Fairgrounds director and current City of Bishop administrator Jim Tatum started Thursday morning's 18th District Agricultural Association meeting in the City's Council Chambers.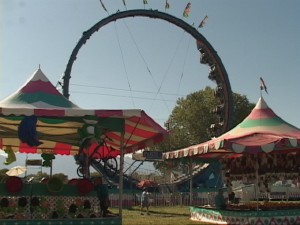 Tatum, who served as Chief Executive Officer of the Tri-County Fairgrounds from 1992 to 2012, provided a recap of the last six years financials as well as recommendations going forward after Sally Symons was asked to resign from his former position two weeks ago.
The first segment of the meeting, attended by approximately 25 people, focused on the operation's bottom line. The best part of the meeting was Tatum's recommendations: the operation and the nine-member board have to pay attention to details; have the staff do what they've been doing, handling the day-to-day operations; don't fill the CEO position, instead have a community volunteer group work on the 2016 Fair, much like the Mule Days' organization. "That's worked for Mule Days for 47 years," he said. Tatum volunteered himself and indicated he'd already spoken to potential volunteers.
"That's what we've been thinking," said Board Chairman Paul Dostie. "We have great employees here."
Tatum's other recommendations came from his 20 years of experience: develop an operating budget for next year with conservative revenue figures, realistic expenditures and a 5-percent contingency; build in deferred maintenance and don't anticipate a balanced budget. "It's an old facility, we have to maintain it," Tatum said, urging board and staff to go after grant funding. His advice to the directors started with filling the four vacancies on the nine-member board choosing people with specific talents. Tatum encouraged board members to clearly identify their roles, take a more active part in the operations and take board training.
Reviewing seven years of financials, starting with 2009, when the Fairgrounds' reserves were 64-percent of operating costs, and ending with an estimate for 2015, Tatum ran through a diminishing reserve percentage. "With interest on reserve deposits at 0.2-percent," Tatum explained, "we switched to other investments" primarily refurbishing the RV camp area and building Tallman Pavilion, both projects returning significant revenues to the Fairgrounds operation. By 2014 the State's contribution, $150,000, disappeared and reserves had dropped to 22-percent. While Dostie acknowledged that not all expenses and revenues were not reflected in the years they were incurred or received, the net profit before depreciation for 2013 was listed as $65,971. In 2014, net profit before depreciation went into the red with a -$59,726.
The numbers improved in 2015 with the profit estimate coming in at $82,000. In addition, as California's economy improves, the Fairgrounds could receive up to $150,000 from the State, provided certain conditions are met.
Bishop City Council
Rome Drive residents Stanley Wooden and Terrance Tye spoke during the public comment period of laste Monday evening's Bishop City Council Meeting, checking up on the progress of environmental work underway at the site of the proposed 15-home Kingston Subdivision, currently Bishop Nursery. Tye said he was aware that Lahontan Regional Water Quality Control Board and Inyo County's Department of Environmental Health tested the site for potential pollution in mid-August. Both questioned when the additional work would be made available to the public and the scheduling of the Council's next discussion of the project. During his report, Chief Administrative Officer Jim Tatum said there may be delays beyond the anticipated six to eight week timeline. He anticipated receiving Lahontan's report soon and biological work by the end of September. "Our goal is to be transparent," he said. "I know the concerns (of neighbors to the project) and want to get all their questions answered."
Also during the public comment period, Karen Kong, prevention specialist with the Inyo County Superintendent of Schools read a letter from Superintendent Terry McAteer regarding a vape shop and lounge located within walking distance of Bishop public schools. With vape paraphernalia added to the list of banned items on school campuses, the superintendent requested the City reconsider the shop's business license or put an age restriction on the establishment. City Attorney Ryan Jones was familiar with the concerns and said he would talk to Bishop school administrators and look into the issue.
Water conservation efforts fell short of the mandated 25-percent reduction compared to water usage during 2013. While Public Works Director Dave Grah described the reduction as "a good effort by Bishop water users," he added "I'd feel a little less nervous if we were closer to 25-percent." The State holds a Damocles sword over water purveyors, threatening a $10,000 a day fine if the 25-percent mandate is achieved.
The Council approved a contract with executive search firm Ralph Andersen and Associates for the recruitment of a Bishop Police Chief to replace retiring Chief Chris Carter. The contract will not exceed $26,000.