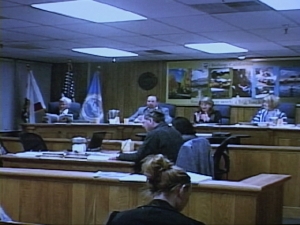 When the Bishop City Council meets Monday night, they will recognize citizens, hear reports, and consider an agreement to produce a City of Bishop video.
The meeting starts at 7pm at City Hall with public comment and reports from department heads. The Council will then recognize Howard Holland for designing the Bishop Seal artwork that was adopted as the City of Bishop seal in 1972.
The Council will also present the Quarterly Citizen Award to the Greg Allen Family. They are the operators of Rainbow Pack Station. The entire family will be recognized for extensive volunteerism throughout the year in many aspects of the community.
Miss City of Bishop and Miss Teen City of Bishop will present quarterly reports, and Supervisor Jeff Griffiths will update the Council on Inyo County issues.
Councilmembers will consider an agreement with Bristlecone Media to produce a City of Bishop Introductory Video which would be sent to prospective businesses and individuals considering location in Bishop. The funds for the video have been provided by Coso Geothermal. The contract will spend up to $5,000 for the video and potentially more work beyond.
In a closed session public employee performance evaluations will be conducted for the City Attorney, Fire Chief, Police Chief, Public Works Director and City Administrator.