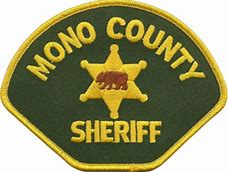 UPDATE: Press Release from Mono County Sheriff Ingrid Braun
11/12/2020; The victims have been identified as William Adrian Larsen, 35, and Yesenia Larsen, 30, from Burbank, the Mono County Sheriff's Office said in a news release. There were no additional details.
11/10/2020 | Ingrid Braun, Sheriff-Coroner
Date: November 10, 2020
Re: Press Release – Double Homicide Investigation
On November 9, 2020, just before 6:30 a.m., a Cal Trans snowplow driver observed two
bodies on the shoulder of Highway 395, approximately 10 miles north of Bridgeport. The
highway was immediately closed, and personnel from the Mono County Sheriffs' Office
(MCSO) and California Highway Patrol (CHP) quickly responded to investigate. It was
determined that the man and woman had been murdered, and MCSO has taken the lead on
the homicide investigation.
The names of the deceased will not be released until next of kin have been notified. It can be
confirmed that neither are local to Mono County or surrounding areas. The crime appears to
be specific and targeted, and there is no threat to the community of Bridgeport. Additional
details will be released as they become available, provided the investigation will not be
compromised.
(11/09/2020) Original post:
Details are very sketchy at this time. There is an ongoing homicide investigation by the Mono County Sheriff's Office taking place after the two bodies (a man and a woman) were found of the side of the road on U.S. Highway 395. The incident has forced the closure of the highway between Emigrant Street and Sonora Junction (SR 180).
U.S. Hwy 395 reopened around 1am this morning
Sierra Wave will provide more details as they become available.