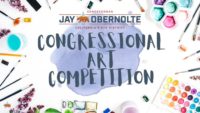 U.S. Congressman Jay Obernolte (R-Hesperia) invites high school students from California's 8th District to participate in the 2022 Congressional Art Competition. Each spring, members of the U.S. House of Representatives host a nationwide high school art competition, offering a great opportunity to showcase the talent and creativity of the District's young artists.
"The time-honored tradition of the Congressional Art Competition draws out the best in our nation's students and demonstrates the culture of our district for all the nation to see," said Rep. Obernolte. "I am honored to once again host this competition for 8th District students, and I look forward to seeing the creative work they submit."
Each spring, the Congressional Art Competition is hosted by members of the House of Representatives to recognize and encourage artistic talent across the nation and within each Congressional district. Since the artistic discovery competition first began in 1982, more than 650,000 high school students have participated. The winner of the California's 8th District Congressional Art Competition will be determined by an independent panel of judges and will have their artwork displayed as a representation of the district in the national exhibition at the United States Capitol. Second and third place submissions will be displayed in Congressman Obernolte's Washington, DC. and District offices, respectively.
Students should submit a high-resolution photo of their artwork and a completed 2022 Student Information and Release form by 5:00 p.m., Monday, May 5 to [email protected].
For additional information, competition rules and forms, visit Rep. Obernolte's website at https://obernolte.house.gov/services/art-competition. You can also reach Rep. Obernolte's office with questions at (760) 247-1815.