As the willow street workforce housing project nears completion in Bishop, the property manager in charge of renting out the two and three bedroom apartments reports that so far he cant find enough qualified applicants. The problem: the majority of the applicants make too much money to qualify for the low income housing.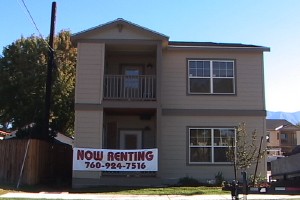 The City of Bishop set some limits on who can live in the apartments. Renters who have worked in Bishop for six months will be given preference. People who work in the 93514 zip code and Inyo County can also be considered.
Other restrictions are set by the federal government. Marvin Orrick, the property manager in charge of these 12 rentals, as well as the Aspen Village workforce housing apartments in Mammoth, explained that the federal government tax credit system that paid for the project sets limits on how much a renter can make. So far he has only found two people that have qualified.
To qualify to live at the Willow Street workforce housing where rents top out around $850 a month for a three bedroom, a person has to make under 60% of the area median income. The most a person can make is $26,400 for a family of two, a family of three has to gross under $29,700. Those federal rules have registered unrealistic in Eastern Sierra reality.
Marvin Orrick, reports that one of the applicants that he had to deny was a single mother making about $12 an hour, who received child support payments that put her just over the cutoff.
Despite the trouble finding qualified applicants so far, Orrick reports that he has received a flood of phone calls asking about the eleven workforce housing units in Bishop.