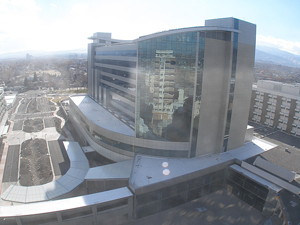 A now familiar story of brutal tragedy hit a medical facility very familiar to many in the Eastern Sierra – Renown Medical Center in Reno. National reports say that a gunman entered a building there, shot and killed one person, wounded two others, and then took his own life.
Details were sketchy, but reports said that the unidentified gunman entered an area of the Renown Medical Center campus and wounded victims who were in surgery. One of them is a doctor. Both were reported to be in critical condition.
Reno Police Deputy Chief Tom Robinson said two were dead and two injured. Robinson was also quoted as saying that the shooting was not thought to be random.
After the shooting, the medical center was put on lockdown. SWAT team vehicles and police responded and surrounded the medical complex. Initially, a three-block area was closed off.
Patients are frequently airlifted from both Northern Inyo Hospital and Mammoth Hospital to Renown Medical Center.