Despite being officially declared dead, missing aviator/adventurer Steve Fossett is once again the subject of a renewed search in our area.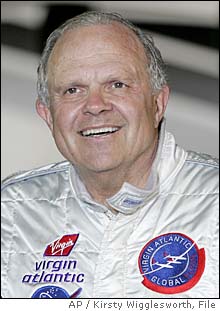 A group led by geologist Simon Donato is currently in the field near Bridgeport searching for signs or wreckage of Fossett's plane.
63 year old Steve Fossett, world-famous for his flying feats, remains missing after he took off around Labor Day 2007 for what he described as a quick flight toward Mono County. The official search for Fossett was called off in the fall and the missing man was legally declared dead in February.
According to his website, Dr. Donato will lead his small crew of adventure racers and athletes on a high intensity 8-day long ground search for Steve Fossett's crash site.
The team started searching on Monday in the hills above the Bridgeport Reservoir, near Masonic Mountain and into Nevada. So far, internet updates report that the two search teams have not found anything significant.
While much of the original search was done by air over vast stretches mostly empty land, these crews plan to travel by foot to cover areas that may have been hidden from above by cliffs and tree cover.
To follow this search online go to Dr. Donato's website at adventurescience.ca.