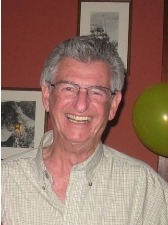 Kenneth Martin Sample 12/15/37 – 02/15/12
Kenneth Martin Sample passed away February 15, 2012, after a courageous five-year struggle with pulmonary fibrosis. He was a true gentleman who touched the lives of many people with his smile and generosity, and maintained his trademark sense of humor all the way to the end.
He was born in San Diego on December 15, 1937 to Mary and Kenneth E. Sample. He was a younger brother to Walter "Buck" Sample and an older brother to Brigid Perez. Both of his dear
siblings preceded him in death. He grew up in Harbison Canyon and Crest and was a proud alumnus of Grossmont High School. Kenneth enlisted in the Air Force at seventeen and earned a business degree from San Diego State University upon his return. At this time he met his wife Carole and started a family.
In 1963, they moved to Long Beach where he began a life-long affiliation with Shell Oil Company. For thirteen years he worked as a sales representative and then became a Shell wholesaler. Over the years, he came to the Eastern Sierra to camp and fish and became fond of the area. This eventually resulted in a move to Bishop where he worked along side his son in their business, Inyo Crude, Inc. He fully embraced the small town pace of life in Bishop and was proud to call it home.
Besides the work that he loved, Kenneth's life revolved around his family and friends. He will be fondly remembered as an honest, hard-working, and caring family man and businessman. In addition to his life- long passion for cars and car racing, Ken enjoyed his daily reading of the LA Times. He always remained nostalgic for his childhood and loved entertaining himself and others with his fantastic stories.
Ken is survived by his devoted wife of fifty years, Carole, his son Kenneth James Sample and his wife Julie of Bishop, his daughter Karen Leigh Sample of Lakewood, and his daughter Colleen Theresa Matlock of Burbank. Kenneth was also the proud Pop-Pop to four lovely granddaughters: Josie Elizabeth Sample, Carly Barbara Sample, Kelly Alexandria Matlock, and Lauren Rose Matlock.
We have lost someone special who will be greatly missed and forever live in our hearts.
A viewing will be held from 5:30pm to 8:00pm on Wednesday, February 22, 2012 at Brune Mortuary, 325 West Elm St. Bishop. A funeral Mass officiated by Fr. John Gracey will be held on Thursday, February 23rd, 2012 at 10am at Our Lady of Perpetual Help Catholic Church, 849 Home Street, Bishop. Internment to follow at East Line Cemetery. In lieu of flowers, donations may be made to the Pulmonary Fibrosis Foundation or ICARE of the Eastern Sierra, a non-profit organization dedicated to the welfare of companion animals.
.