A whirlwind of energy and ideas. That's how many have described Earl Brown. He was an entrepreneur who liked to help others succeed. Earl died last Tuesday at the age of 78.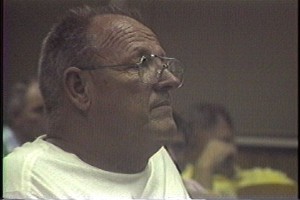 His family said that Earl was an only child, the lone survivor of twins. He was born November 20, 1929. He grew up in Compton and spent many week-ends and summers in the Owens Valley. He married Jeannine Drury in 1948. The couple moved to the Owens Valley in 1950 where Earl figured out he wanted to be his own boss.
Brown started his own janitorial service in 1953. He owned a second hand store, managed the Inyo County dump for several years, and operated a salvage business. His business ventures included a newspaper, E & J/s Corral and a boat shop. He knew how to bring county facilities to life with his own brand of enterprise. The Brown's now own several area campgrounds, Keough's Hot Springs, their hardware store and salvage yard.
Earl valued his family above all else and passed along his hardnosed work ethic with a sense of fun. He liked water skiing, hunting and fishing with his children. He also liked racing quarter midgets. Earl was a Free Mason and an elk for 50 years. He always protected rights to enjoy the outdoors.
Earl brilliantly navigated through politics, human relations and business to accomplish his goals.
Earl Brown is survived by his large family, including, locally, his wife Jeannine, sons Bert and his wife Bev, Doug and his wife Kelli. Plus, daughters Earlene and her husband Dave Beaver, Gail and her husband Randy Slee and daughters Cindy and Suzi from out of the area.
A graveside service will be held for Earl Brown Tuesday, tomorrow, at the East Line St. cemetery at 2pm with a celebration of life to follow at Brown's Town Campground. Instead of flowers, the family asks that donations be made in Earl's memory to California Deer Association, Advocates for Access to Public Land, Eastern Sierra Wildlife Care or a charity of your choice.