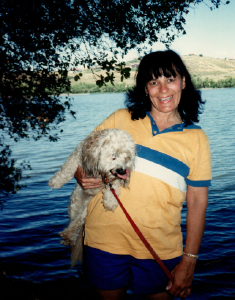 Bobbie Turner, 71  died at her home at McGee Creek after a long cancer illness.  Her husband and her  children were with her.  Her family was the most important thing to Bobbie.
Bobbie worked with her husband Ray and her son Tristan in their Mono County carpet and Window Cleaning business for 38 years.  Bobbie was also an engineer on the Long Valley Volunteer Fire Department from 1978 to 1995.
Bobbie loved to fish, camp, cook and work in her garden.
She was preceded in death by her parents George and Rose Lucas of San Diego and her brother George Lucas III of Mammoth Lakes.
Bobbie is survived by her husband, Ray; daughters, Bonnie Turner and Sloan Holmes ; and son Tristan Turner.  She has two grandsons Nathan and Ryan Holmes .  Also, a little redheaded cat named Stella who slept with Bobbie every night  right up  to the end.  She has a sister,  Esther  Lucas Hafover and nieces Sherri, Holly, and Jennifer.  A sister-in-law Laura Lucas and nieces  Jessica and Maggie and nephew Cory  of Mammoth.   Also a  nephew Jesse Lucas of San Diego