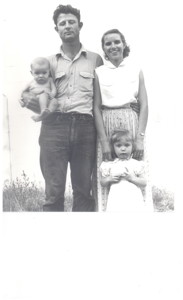 Betty was born in Medford, OR January 22, 1929 to Lester and Bertha Banta.  She was one of eight children.  Betty moved to the Owens Valley with her family when she was only three years of age and has been here ever since.  She passed away in Bishop, CA .   July 27, 2014 at the age of 85 with her husband Votie of 66 years by her side.   
Although Betty lived in Bishop most  of her life, she lived in Cartago, CA.  where she attended grade school .  She then moved to Bishop and graduated from Bishop Union High School in 1947.  She met the love of her life Votie in 1948 and married him in 1949.  Together, they raised four children.  Betty spent her life as a very devoted homemaker, wife, and mother.  Her occupation was to tend the office and keep the books of the family business,  not only for her husband, but also for her son as he took over the business.  She did this until she was unable to do it anymore, and that was the way she wanted it.
Betty was an unselfish lady as  she volunteered countless hours flying with her husband  searching for downed aircraft and anybody in need  of assistance from the Civil Air Patrol.  She did this for 27 years.  She loved the outdoors as she was a country girl, and it didn't really matter what she was doing, as long as she was with her family.  She could really grow a good vegetable garden.
Betty is preceded in death by her oldest son, Devotie Goin, sister Ina Mason, sister Florinda Banta, and brother Lester Banta.  She is survived by her husband James (Votie) Goin, daughter Lyndi Goin, son Mark Goin and son and daughter in law Kyle and Tammy Goin, Sister Pat Schley, Brother Rodger Banta, Brother George Banta, and brother and sister in law Willard and Connie Banta.  She is also survived by numerous grandchildren and great grandchildren and nieces and nephews.
Betty will be severely missed as she made a difference in many people's lives.  She was always there to help anybody.
Funeral Services will be held at the East Line Street Cemetery, Thursday,  August 7th at 10:00 AM with Pastor Rick Klug officiating.