Department of Fish and Wildlife crews are examining and relocating bighorn sheep and studying deer in the Eastern Sierra this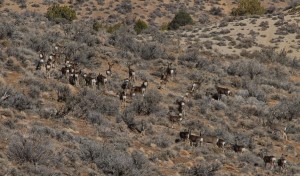 week. Fish and Wildlife Public Information Officer Andrew Hughan said that more than two dozen volunteers from around the state are working closely with Fish and Wildlife biologists and regional staff to capture, evaluate and relocate healthy bighorn sheep in the Sierra Nevada range. Hughan provided this report on sheep and deer activities:
The sheep are part of a herd located north of Bishop that are being translocated to the western slope of the Sierra to expand the range of the federally listed species.
The 11 animals moved will form the tenth individual small group created since the bighorn repopulation program began in the early 1990s. The federal government has said that once 13 groups are formed and sustained, the Sierra Nevada bighorn will become a candidate for delisting as an endangered species.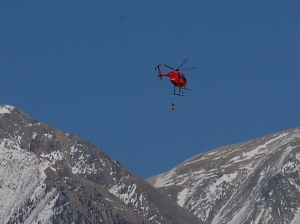 Fish and Wildlife biologists estimate it will be at least another three years before the sheep population reproduces enough lambs for biologists to continue the repopulation effort and create the 13 groups.
CDFW biologists, staff and volunteers also worked together on Thursday to collect, evaluate, tag and return California mule deer to their home ranges near Bishop.
Mule deer are abundant in the Eastern Sierra, and scientists have long sought an accurate way to estimate their population and general health. This week marked the beginning of a five-year study that will involve capturing dozens of deer from three different established herds, bringing them to a base camp where they will be given a full veterinary evaluation (measurements, blood, and DNA samples taken) and then returning them to the range. Processing an animal, from start to finish, takes less than an hour.
Each animal is fitted with a brightly colored UHF tracking collar that will send location data to CDFW. This will allow staff to monitor movements of the animals and the herd as a whole, over time.