By Deb Murphy
Bishop's Planning Commission approved a lot split request on the 5.47 acre parcel at Wye Road and Highway 6 at Tuesday's meeting. If that agenda item rings a bell, it was and still is the potential location of Inyo's office structure designed to house county staff currently spread over six leases in Bishop.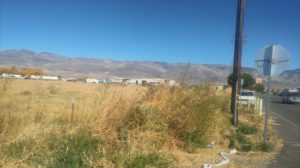 The approval was unanimous with no comment during the public hearing.
Nothing is set in stone according to the agenda item: 1.67 acres is anticipated to be developed as a 20,000 square foot grocery store with 3.8 acres potentially developed as the 40,000-plus square foot county office building.
The supervisorial sessions and public workshops may be a dim memory by now, so here's an abbreviated run-down.
The road to the county's offices started with a Request for Proposals back in 2010. Following discussions, cost and current lease projections and design tweaks, the Board of Supervisors approved a Term Sheet and Concept Plan, both non-binding, with Joseph Enterprises and partner Inyo County Development LLC.
The terms: a $2 million payment at the start of the 20-year lease; monthly payments of $50,000 with lump payments of $250,000 in years five, ten and 15. At the end of the 20-year arrangement, Inyo owns the facility with a $1 token payment.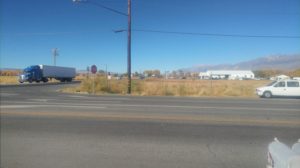 All this totals out to more than $14 million. But, now four years later, there's a real good chance those numbers have changed.
Inyo's CAO Kevin Carunchio isn't sure if the numbers will go up or down, citing the possibility of sharing infrastructure costs with the anticipated grocery store. Whichever direction those numbers go, they'll have to be plugged into the county's extensive analysis to see if the project makes financial sense.
In an e-mail Carunchio stated "hopefully we are getting close to the point where the Board of Supervisors can consider the project in the next couple of months. Right now, we are waiting on the developer to provide new cost information."
The project will require an environmental review before the Board can vote on the lease arrangement. There should be more lively discussion when the office project hits the Supervisors' chambers.