PRESS RELEASE
            Lone Pine Film Festival
           Announces 2013 Program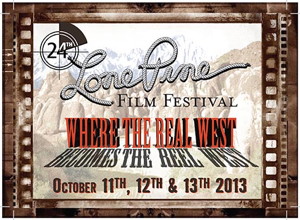 "Lone Pine, Where the Real West Becomes the Reel West" is the theme for the 24th Annual Lone Pine Film Festival being held October 11-13, 2013. The theme pays tribute to the magnificent landscape of the Eastern Sierras and the Alabama Hills west of Lone Pine. 

A diverse group of actors who graced the silver screen in films shot in our backyard will be joining us. Emmy Award winning actress Mariette Hartley may be best known for her series of Polaroid commercials with James Garner in the 1970s and '80s, but it is her work with Randolph Scott and Joel McCrea in Ride the High Country that brings her to Lone Pine this year. Clu Gulager's 50-plus year career in television is highlighted by two NBC Western series in which he co-starred, The Tall Man and The Virginian. LQ Jones worked in Lone Pine with a number of Hollywood legends including Randolph Scott, Audie Murphy, Joel McCrea and Steve McQueen. As a child actor, Billy King worked in Lone Pine in three Hopalong Cassidy Westerns in late 1930s. Dean Smith began his stunt career in Lone Pine on The Law and Jake Wade in 1958, and ended it in Lone Pine working as a stunt man on Maverick, in 1994. Andrew Prine, still active after more than 55 years making movies, joins us once again after an absence of several years. Lone Pine's sweetheart, Peggy Stewart, a major leading lady from the heyday of the B-Westerns and serials in the 1940s and still working today, will be with us again this year. Diamond Farnsworth, who has been involved in numerous films and TV series, most recently stunt coordinator on the show NCIS, teams with Loren Janes, stuntman and the long time stand-in/stunt double for Steve McQueen to round out or confirmed guest lineup.
These celebrities will join with noted film critic and TV personality Leonard Maltin and western historian Ed Hulse who will be hosting our celebrity panels,  where they will share first-hand stories and memories of their colorful careers working with legends like John Wayne, Randolph Scott and Hopalong Cassidy. In addition, David Rothel, who has authored over 20 western books including Who Was that Masked Man? The Story of the Lone Ranger and Sidekicks, will present programs discussing his works published by the Lone Pine Museum of Western Film History.
And true to our theme  "Lone Pine, Where the Real West Becomes the Reel West," the museum staff will bring you 15 exciting location tours including four new ones – Arches of the Alabama Hills, Audie Murphy: A Real Reel Hero; Django Unchained and Westward Ho!. Returning to Lone Pine for the first time in 50 years, Billy King will participate in two tours, "Billy King Remembers Hopalong Cassidy" and provide commentary to Don Kelsen's Secrets of the Wasteland tour.
A special Kick-Off concert, "Celebrate America" will follow the annual Museum reception, Thursday evening October 10th and feature R.W. Hampton & Belinda Gail.
Add a weekend rodeo round-up, vendors, book signings, breath-taking views, Wild West entertainment and a Lone Pine Film Festival tradition – the Sunday "Main Street" Parade – "the best small town parade in America."

And don't miss our world class Lone Pine Film History Museum!
For more information: Contact: Bob Sigman 760-876-9909  HYPERLINK "mailto:[email protected]" [email protected]
For Festival and concert ticket information – call  760-876-9103 – or visit the Lone Pine Film Festival website  HYPERLINK "http://www.lonepinefilmfestival.org" www.lonepinefilmfestival.org
Press Release September 15, 2013
Contact: Bob Sigman 760-876-9909
THE GROAT FAMILY WILD WEST SHOW –
Longest on-going family Wild West show in U.S. history with over 5000 performances.
The Matriarch of the family, Gypsy Bell Groat, was a child actor for MGM in the 1940s, and her father, Clifford Groat, was a director for the old silent films and early talkies at Pathé Studios. It was only natural that the family grew into their passion of celebrating and honoring the "West" and Western Culture.
The Wild West shows of the late 1800's introduced many contemporary western performers and personalities Like Buffalo Bill Cody, Anne Oakley, Calamity Jane & Chief Sitting Bull providing a romanticized version of the American Old West to a wide audience.
Today, the American West has a certain wild image of adventure filled with cowboys, Indians, wild animals, outlaws, and ambushes. The dramatic myth of the Wild West as we see it today is really a "puffed-up exaggeration" of the real western frontier but one that audiences World Wide have come to enjoy.
The Groat Family Wild West Show celebrates the achievement of the frontier movement as being the most important accomplishment in American history – a winning combination of history, patriotism, and adventure that create an enduring spirit of the unsettled west and capture the hearts of the audience.
The show consist of reenactments of history combined with displays of showmanship, sharp- shooting, stunts ,and a vaudeville style and presentation of "historical" scenes providing for "poetic license" in presenting and embellishing upon the period action and adventure of fights, robbery's and wild west shoot outs.
The Family began their show in 1964 providing Western Entertainment for events of all kinds and as opportunity presented itself, as actors for Western films.
As the family grew, so did their mission – today The Groat Family performers have presented over 5344 shows all over California and the West at grand openings, corporate events, festivals, parades, charities, schools, weddings and birthday parties. They have performed for major venues including Disney and Knott's Berry Farm and other Hollywood corporations. In addition, family members can be found as actors with credits ranging from background extras to key roles.
"I see our western film history as an important part of our American roots, and one of the foundations of our artistic culture." — Rick Groat