Part IV – What is being done to mediate climate change in California?
Provided by the Fort Independence Environmental Climate Change Working Group
Chair: Dennis Mattinson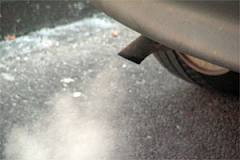 Passenger Vehicle Programs
Beginning with the 2017 model year, the Advanced Clean Car regulation will significantly reduce vehicle tailpipe emission standards. This control measure will reduce annual emissions by 4.1 million megatons of carbon dioxide equivalents (MMTCO2e), 1990 to 2020 (projected), as part … in 2020 and together with other vehicle programs will result in cumulative emission reductions of 158 MMTCO2e between 2009 and 2020. (Reducing 1 MMT of CO2 emissions is equivalent to 216,000 passenger cars not driven for one year)
The Zero Emissions Vehicle requirements (ZEV) will become part of the Advanced Clean Car regulation, and will be enhanced beginning in the 2018 model year.
The goal of the ZEV will be to ensure a suite of very low Green House Gas (GHG) emitting vehicle technologies are commercialized so they can be relied on to further reduce GHG emissions beyond 2025.  The Advanced Clean Car program will continue to require reductions in criteria pollutants in order to meet new, more stringent ambient air quality standards, address emissions from a growing population, and address the increase in ozone formation and unhealthy air resulting from climate related, longer and more extreme heat events.  1
Renewable Energy Resources Program
Governor Edmund G. Brown, Jr. signed Senate Bill X1-2 into law.  This bill directs California Public Utilities Commission's Renewable Energy Resources Program to increase the amount of electricity generated from eligible renewable energy resources per year to an amount that equals at least 20% of the total electricity sold to retail customers in California per year by December 31, 2013, 25% by December 31, 2016 and 33% by December 31, 2020. The new RPS goals applies to all electricity retailers in the state including publicly owned utilities (POUs), investor-owned utilities, electricity service providers, and community choice aggregators.  1
Going off Grid with Renewable Energy
The Ramona Band of Cahuilla Goes "Off the Grid" –
The Ramona Band of Cahuilla is one of the first tribes in the nation to be "off the grid" and utilize renewable energy to power its homes, offices, and other buildings on the reservation. This small, remote, and rural southern California tribe has developed, in partnership with the U.S. Department of Energy, a wind and solar system that provides 90% of its energy needs. Tribal members have also been trained to provide the long-term maintenance and operation of the system.
In addition, the U.S. Department of Housing and Urban Development, U.S. Department of Agriculture, and U.S. Forest Service have supported the development of the tribe's Eco-tourism Project, which is also powered by renewable energy technologies. The Ramona Band will utilize the Eco-tourism Project to demonstrate to others how renewable energy systems eliminate the environmental impacts that conventional power systems and electric power lines have on sensitive resources. The eco-tourism facility will offer renewable energy education as well as cultural and educational programs that honor Cahuilla traditions.
1. California Air Resources Board