Nancy Upham with the Forest Service reports that the Reds Meadow Road, with access to the Devils Postpile National Monument, is expected to open to the public on Friday, June 5th.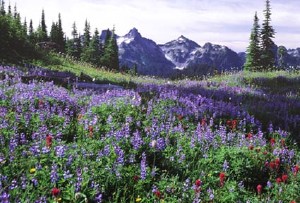 Crews with the Forest Service and the Park Service, the Town of Mammoth Lakes, Mammoth Mountain Ski Area and CALTRANS are working to open the road.
The road will be open to unrestricted vehicle access for the first week before mandatory shuttle bus service starts on Saturday, June 13.
One change this year in the shuttle operation is that the shuttle route has expanded to start at The Village in Mammoth Lakes on a few of the morning runs; but most shuttles will begin their route at the Mammoth Mountain Main Lodge as usual.
Upham explained that the route change is due to a new partnership with the Eastern Sierra Transit Authority. ESTA has now taken on operations of the Reds Meadow Shuttle service on a one year contract.
Forest Supervisor Jim Upchurch says, We believe this partnership will bring many benefits to the Inyo National Forest and to our visitors. This is already the case with the change in route to begin in Mammoth Lakes, filling a four mile gap in transit service that has existed for years.
As in the past, dogs are allowed on shuttles, but new this year dogs must wear muzzles.
Ticket prices will reamin the same this year, $7 for an adult. On early morning trips, the ticket booths will not be open, so passengers should either purchase their tickets the day before, or have exact cash to pay the driver.