Press releases
The Inyo National Forest is currently permitting pedestrians and bicycles to use the Reds Meadow Road. The road remains closed to cars and other vehicles except administrative traffic.
The road had been previously closed for pedestrian and bike traffic  for safety because of maintenance work, hazard tree falling, and other intensive work along the road corridor.
Those who walk/bike the Reds Meadow Rd. should be aware that maintenance work  is continuing, at a diminished scale,  and stop for or avoid road work.
Bicyclists should understand that the road has not been swept. Rocks, limbs, and other debris on the road will present hazards for cyclists that will require extreme caution.
Enjoy your holiday weekend.
###
Schaeffer Fire
KERNVILLE, Calif., June 30, 2017 –The Kern River Ranger District (KRRD) of the Sequoia National Forest and Giant Sequoia National Monument received thunderstorm activity over the area, Saturday, June 24, which resulted in the Schaeffer Fire.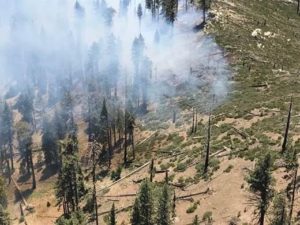 The fire is burning in a north-easterly direction within the 2002 McNally wildfire footprint. Burning in whitethorn, dead and down logs and needle cast, the fire has burned 1,467 acres. Smoke is visible from the communities around Lake Isabella as well as drifting across the Sierra Crest and visible along Highway 395, between Olancha and Lone Pine. Smoke can also be seen from many vantage points north of Johnsondale and along the Lloyd Meadow and Western Divide roads.
Suppression planning decisions have been taken on the Schaeffer are in alignment with the confine and contain strategy. Confine and contain, on a fire, is the restricting of the fire to a defined area primarily using roads, trails, and natural barriers, expected to restrict the spread of the wildfire under prevailing and forecasted weather conditions. In other words, the goal of the strategy employed is appropriate management responses, where a fire perimeter is managed by a combination of direct and indirect actions and use of natural topographic features, as well as man-made features such as roads and trails.
Naturally caused wildfires can enhance many resource values when we allow fire to play its role on landscape. Confine and contain fires are managed for reducing accumulated forest litter and fuels, maintaining fire in a fire-adapted ecosystem increasing firefighter and public safety, and protecting cultural resources and wildlife habitat.
Helicopters started inserting multiple crews on June 29th. Firefighters are working on securing line, and scouting, to identify potential fire lines in a manner consistent with, and maintaining, the natural barriers of the landscape, and improving existing trails. Crews are constructing direct hand lines, to the east using natural barriers.
Abby Bolt, Incident Commander trainee stated, "I am proud of the work all of the firefighters and support personnel are putting in. The helitack modules are doing an amazing job while displaying safety and efficiency when transporting all of the crews out to the fire line."
Fire managers are working closely with the California Air Resource Board and the San Joaquin Valley Unified Air Pollution Control District and 80 firefighters, and fire management personnel are assigned to the fire.
Smoke from fires produces particulate matter. People with existing respiratory conditions, young children, and elderly people are especially susceptible to health effects from these pollutants. Air District officials urge residents to follow their doctors' orders when exposed to particulate matter and stay indoors if at all possible.