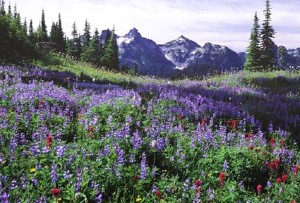 There had been hope that the Reds Meadow Road to Devils Postpile National Monument would be open this weekend, but instead melting snow will delay the opening by a week.
The Forest Service and the Park Service are working with the Town of Mammoth Lakes, Mammoth Mountain Ski Area and Caltrans to get the road open and facilities operational before opening to the public.
Above average snowfall, combined with a cold spring and slow melting have delayed needed road repairs and access to water and sewer systems. Nancy Upham with the Forest Service says that engineers want the roadbed to dry out a bit more before the buses hit the rotation for the season. There are also 28 culverts in the first 3 miles of road that all need to be clear and operational and a shoulder washout that needs to be repaired.
Forest Officials say that an above average snowpack may stick around in the coming weeks and limit the ability to open campgrounds and trailheads. Reds Meadow Pack Station and Resort will be open for business beginning Friday, June 18. Access to their facilities will be made available to their customers by appointment only.
Forest Officials say that the mandatory shuttle service is now set to start on Thursday, June 24, and operate through Wednesday, September 8, 2010.