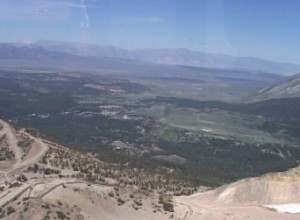 (USFS Press Release)
BISHOP, Calif., Nov. 16, 2012 –   Logging operations in the Reds Meadow Valley have been completed for removing down trees from the wind event of last November 30.  Consequently, the area closures in the Reds Meadow Valley will no longer be in effect. While the Reds Meadow Road is closed to wheeled motor vehicles for the season due to snow, access to Reds Meadow Valley will now be open to winter public use, including snowshoer, skier, snowmobile and pedestrian traffic.
Before travel into the Reds Meadow Valley, visitors should be aware of winter conditions and hazards in the area. The Reds Meadow Road is not maintained during winter, and may be subject to avalanche hazard. No services are available in Reds Meadow Valley during the winter. In case of need for emergency communication, public pay phones are located at the Reds Meadow Resort, Devils Postpile National Monument Ranger Station, and across from the Pumice Flat Group Campground.
For more information, please call the Mammoth Lakes Welcome Center at (760) 924-5500 or visit the Welcome Center at 2510 Hwy 203 next to the Mammoth Ranger Station.