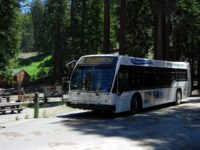 The Reds Meadow Shuttle Service, provided by Eastern Sierra Transit Authority, begins service on July 2.  After the Reds Meadow Road opens on June 17, but before the shuttle starts running on July 2, expect parking to be very limited in the area.
It is recommended that you carpool and arrive early.
On July 2, all regular rules and fees will be put in place, including mandatory use of the shuttle bus.  Information on fees, the mandatory shuttle bus and exception vehicles can be obtained on the Inyo National Forest website at https://go.usa.gov/x6RJG. For details on the schedule and fares for Reds Meadow Shuttle, please visit www.estransit.com/routes-schedule/seasonal/reds-meadow-shuttle.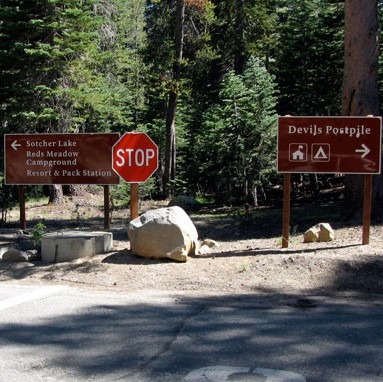 The Devils Postpile Ranger Station and Campground, operated by the National Park Service, will not be open this season.
Reds Meadow, Agnew Meadow, Pumice Flat, Minaret Falls and Upper Soda Springs Campgrounds will be open on a first come-first served basis at 11:00 a.m. on June 18. Campsite availability will be tracked by staff at the Minaret Vista Ranger Station and campers will be informed of availability upon arrival at the Station.
Agnew Meadows Group Camp and Agnew Horse Camp will open on July 9 and can be reserved at www.recreation.gov.