– City of Bishop press release
The City of Bishop would like to congratulate the 2013 C league champions the Red's. The Red's had a season record of 3-7 proving that everyone has a shot at the championship.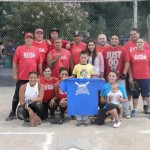 The championship game was on August 8 at 7:00 on field one at the Bishop City Park against Jackson's ; it was a great first five innings with a very close score, finally the Reds put up some runs the Jacksons could not answer with final score of 12-5. In the photo back row (L-R) Willie Falk, Earl Lent, Darren Spoonhunter, Jon Frankson, Mitch David, Augie Barlow, Thomas Stone, Dyryll Duckey, Shannon Duckey,
Bottom Row (L-R) Hannah Frankson, Joba Watterson, Tee Hee Nah Duckey, Jorden Frankson.