– City of Bishop press release
The City of Bishop would like to congratulate the 2013 D league champions the Red Tails. Red Tails had a season record of 8-2, and played through a long playoff series to take the championship.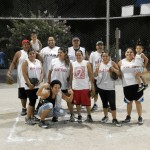 The championship game was on August 9 at 7:00 on field one at the Bishop City Park against Unloaded; Red Tails came out with their "A" game and had a final score of 24-6.
In the photo (L-R) Robert Chaves Jr, Caleb Basped, Terry Crowl, Robert Chaves Sr. Front row (L-R) Alyssa Richards, Quanah Davis, Jackie Chaves, Genna Martinez, Tulie Barlow, Tashina Chaves .