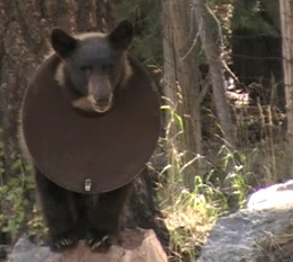 (Press Release – Mammoth Lakes Police Department)
On Tuesday morning, July 31, Mammoth Lakes Police and Wildlife Specialist Steve Searles responded to a call of a bear in the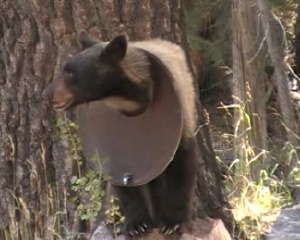 area of A Frame Liquor with a metal lid stuck on its head.  The 125 pound, 19 month old bear was found in the area of the Shady Rest tract.  It had what appeared to be the lid from a recycling bin around its neck.  The bear apparently stuck its head in a recycling bin and the lid became stuck.
The California Department of Fish and Game (DFG) was contacted and game wardens, under the direction of Lieutenant Bill Dailey, responded.  The bear was shot with a tranquilizer dart behind a house on Mono Street.  Once sedated, the metal lid, weighing in excess of 10 pounds was removed.  The bear was found to be in good health.  He was tagged and transported to a remote area and released.
Wildlife Specialist Searles said that the bear could not climb a tree or eat with the large, heavy metal lid on its neck.  It would not have survived without human intervention.