Golf courses use a lot of water. So, Mammoth Community Water District decided some time back to target the two golf courses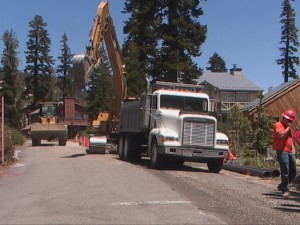 in town for recycled water projects. Talk about water conservation. When both golf courses go to recycled water, Mammoth will save 76% of the total average annual golf course irrigation use previously supplied from groundwater sources.
In three weeks or so, Mammoth Community Water District crews will install the last segment of the recycled water line to deliver recycled water to the Snowcreek Golf Course. This project was designed to use recycled water to irrigate both the Sierra Star and Snowcreek Golf Courses. This summer, the crews will install the final 300 feet of the total 2.6 mile project.
Water District officials say that this use of recycled water will cushion the water use restrictions necessary during drought years and will help meet future Town buildout water needs.
Last season, the Water District completed the recycled water line installation to Sierra Star Golf Course and delivered 20 million gallons of recycled water by the end of last year. Improvements at Snowcreek to allow for recycled water use there are set for completion 2012.
When crews start to work on the final project, noisy equipment will start up on Minaret and Old Mammoth. During construction some traffic control and detours may take place.