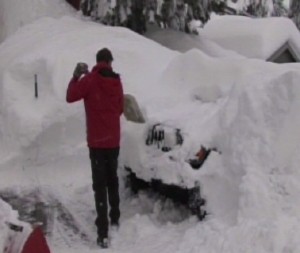 The digging out from under all of those feet of snow continues, and now the utility companies scramble to make repairs, to keep electricity and phone service on.
Dan Brady of Edison said that trees did fall on power lines which caused power outages in Mammoth Lakes and in Swall Meadows. The snow is so wet and heavy that, as some call it, the Sierra cement takes a toll on trees, tree limbs and power lines. It takes a toll on people too. The rough job of digging out, dealing with no power and concerns about snow load on structures.
The snow took out power on some mountaintop communication sites like Silver Peak, which caused problems for broadcasters and apparently for some emergency communications.
Dan Brady said Edison has brought up crews from Ridgecrest and Lancaster,, rotating them in and out to handle the many problems created by the weather.
According to the Town of Mammoth, the National Weather Service posted a Winter Storm Watch through Wednesday. More snow. The Eastern Sierra Avalanche Center says extreme avalanche danger exists for the Mammoth Lakes area and for all other areas in the forecast region.
Mammoth Fire Department sent out the word that several safety issues exist due to the weather. Watch for extreme snow load on roofs. Home owners, landlords and tenants need to make sure that vents for appliances remain clear of snow to avoid build up of carbon monoxide.
The tops of propane tanks need to be dug out routinely to allow for access to the shut off valve. Also make sure all exterior gas pipes are exposed. Make sure your home address remains visible, dig out fire hydrants near your home. Mammoth Fire has a special program for this. Call Jody Holl at the Fire Department – 934-2300.