– Press release from Eastern California Museuem:
Just the nickname "Mad Dog" gives you a good hint that Irene Kritz is not your average pack outfit cook and campfire storyteller.
The long-time backcountry cook and Lone Pine resident will be the main attraction at a book signing and reception on Saturday August 10 from 1 to 4 p.m., at the Eastern California Museum, in Independence. Kritz will be signing copies of her recently released book, "Campfire Smoke and Trail Dust: Tales From a High Sierra Pack Cook," an enlightening and amusing look at her adventures and misadventures during her years in high-Sierra pack camps and trips.
Kritz wrote the following explanation of the inspiration for the book: "After years of campfire talks, Irene 'Mad Dog' Kritz realized her listeners kept staying, "You out to write a book!" Failing to understand that they just wanted her to stop talking, she wrote out her favorite tales for this book."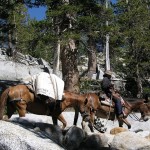 That breezy style is part of the charm of the book. Of course, after spending nearly 50 years riding and cooking throughout the mountains, Kritz has plenty of stories to tell about the "high lonesome."
On a bit of a serious note, there are harrowing tales of mule "wrecks," and brave packers risking their lives to save their animals and loads. The lighter side of packing and camping comes through in humorous stories of cowboy wanna-bees and foolish "dudes." Then there are wilderness adventures with bears and other wildlife, with the story, "The Dude Who Wanted to See a Bear" counts as a two-fer. Of course, the camp cook has tossed into the mix a few tales of what it takes to feed a bunch of hungry riders, under normal circumstances, or when the food supplies are running low.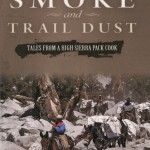 As a young woman, Kritz came to the Owens Valley as a guide and back country cook, an occupation she continued to purse for more than four decades. She lives in Lone Pine with her husband, "the fire chief" (that would be Leroy), 10 horses, one mule and five dogs. She said that she has "supported her mountain habit by teaching school" in Lone Pine, where she also raise horses, started a high school agricultural program and "occasionally pretended to be a potter."
Kritz will tell some tales and sign books at the museum from 1-4 p.m., on Saturday, Aug. 10. Refreshments from the Mt. Whitney Café and Jenny's will be served. The museum is located at 155 N. Grant St. in Independence, call 760-878-0258 for more information.