Lots of complaints from Mammoth people about the persistent smoke that hangs around town from the Aspen Fire. Air Pollution Control District Director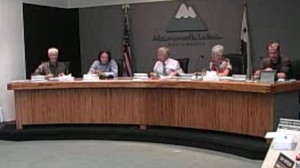 Ted Schade reminded the public at the Town Council meeting Wednesday night that the smoke in Town used to be just this bad from wood stoves. Schade also let the Town know that air quality is still not what it should be in Mammoth Lakes.
It came to light during Schade's discussion before the Council that in 2006 the Town quit enforcing the rule to change out old, polluting wood stoves. As for air quality, Schade said the APCD implemented air quality standards and monitoring in Mammoth Lakes in 1990. He said the recent smoke produced the first violation of federal PM10 standards since 1994. Schade told the Council and public, "The smoke you saw was the kind of smoke you saw in Mammoth before 1990 when we implemented standards."
Schade said Mammoth still experiences twenty or more violations of state air quality standards every year. He said, "We're not done." Schade pointed to a comment by Sean Turner of Mammoth Brewing. Turner said Bluesapalooza was very successful but he said the smoke scared some people away. Turner said social media had spread the word about the smoke.
Schade said this points to the fact that as a tourist-recreation area, Mammoth Lakes needs to seriously keep air quality at a top clean level – for health and economic reasons. He said APCD looked around for other communities that have similar air quality to Mammoth with about 20 state standard violations every year. He said the closest was Victorville. Schade said Mammoth doesn't really want to say, come to town where our air is like Victorville.
That's when Schade said he had found out that through a loss of staff, the Town of Mammoth quit enforcing the change-out of old wood stoves when properties in town change hands. Schade volunteered one of his staff, Lisa Isaacs, to help the Town. He said APCD can't really enforce the Town regulations but will make grant funds available to the Town when the money comes along.