The Mammoth Lakes Winter Recreation Summit is all set to go and we can't wait to welcome you and our excellent cast of guest speakers and session presenters to this forward-looking and exciting event.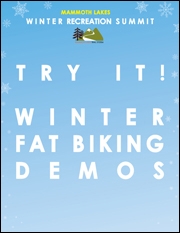 Things gets started
this Friday
evening,
March 18
and continue through
Saturday
evening,
March 19
right here in Mammoth Lakes. And once again, I'm sharing a list of links to all of the sessions and opportunities for you to participate. To help determine which ones you'd like to attend, please click on the links below for more information on each of the Summit's individual sessions – you can also use these pages to RSVP for the specific sessions you'd like to attend.  A complete schedule of events is available by
clicking here.
Just yesterday, two items came to my attention that I believe further reinforce the value of the Summit and the opportunities for your involvement and engagement. Click on the headlines below for the web pages that got my attention.
$1 MILLION "WIN" FOR UTAH'S OUTDOORS
The Utah State Legislature has passed and forwarded a bill to the governor that will fund the Office of Outdoor Recreation for another year – with a 100% budget increase!
NOAA: THIS WAS THE WARMEST WINTER ON RECORD
The United States is in the midst of the warmest winter on record. NOAA's National Centers for Environmental Information just released its State of the Climate: National Overview for February 2016 report tracking weather stats for December through February. The data reveals record high average temperatures across the contiguous U.S.
While the Summit's primary focus is further implementation of winter specific projects and programs from the Town's Trail System Master Plan, the news we are getting every day reinforces the need for all of our communities to be as proactive as we can with the opportunities and the challenges that are coming our way.
Looking forward to seeing all of you this weekend, and to an illuminating and successful Mammoth Lakes Winter Recreation Summit!
Best –