Reba Mae Sullivan (nee: Morgan) was born December 13, 1915 and passed away June 4, 2015, just six months shy of a grand 100 years old.  She was born in Southwest Missouri  and moved to California where she spent her happiest days fishing with her husband Paul and partying with her second husband Harold.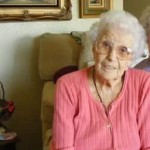 Reba did not have any children, but she did have a beloved nephew Kenneth Magruder who was like a son to her.
She was preceded in death by her husband Paul Hughes, her husband Harold Sullivan and her nephew Kenneth Magruder.   Her surviving great-nieces are Kathleen Magruder, Heather Thiess and Jeanie Finney.  She has several great-great nieces and nephews and one great-great-great nephew.
She was a woman who saw many changes in the world throughout her long life. She was a survivor and adapter to most every situation she found herself in.   She often said, "When I die, don't cry for me because I had a very good, long life."
Funeral services will be held Friday, June 12th  at 11:00 AM  at East Line Street cemetery, 2000 Poleta RD. Bishop, CA.