Back for more analysis – the idea of a Radio-Control vehicle track at Bishop City Park.  Residents expressed concerns about noise, dust and a buffer zone.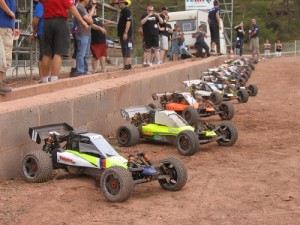 Members of the Bishop City Council listened to those public concerns and directed their staff to do more study of the project.  Acting Administrator Keith Caldwell said that the Council felt concerns could possibly be mitigated.
The item before the City Council Monday night was an Initial Study and Negative Declaration to allow the Owensville R/C Club to build and maintain a race track at City Park.
Caldwell said that many concerns focused on the gas-powered cars that might create noise and air quality problems.  Others pointed to what they see as not enough distance between Hanby Street and the proposed site as well as concerns about proximity to the Bishop Senior Center.
Caldwell said the staff would look at hours of operation and code enforcement.  He added that if the City Council chooses to allow the track, the City would create a Memorandum of Understanding with the group to outline responsibilities.  Caldwell also made it clear that no taxpayers money would go into the project, except for routine maintenance by park staff.  He said the R/C Club would pay for construction of a water system to keep dust down and for the track itself.  More later.