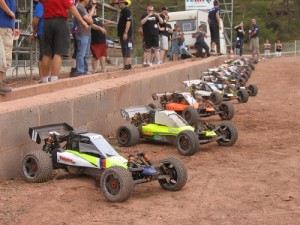 When the Bishop City Council meets Monday night, officials will hold a public hearing on an environmental review of a radio control race track project at Bishop City Park.
Local residents used to enjoy an improvised track on Los Angeles Department of Water and Power land outside Bishop, but DWP finally banned the facility.  Residents approached the City Council with the idea of a track at City Park.  They even demonstrated the radio controlled cars and let council members try them out.
The Council will take input on an initial study and Negative Declaration to allow Owensville R/C Racing to build and maintain a race track for radio-controlled vehicles at City Park.  The Council will consider adoption of the Negative Declaration and Notice of Determination for the club's project.
In other business, the City Council will hear a report from the Parks and Recreation Commission on a recommendation to increase of the number of commissioners from five to seven.
The Bishop City Council meeting was scheduled to start at 7pm at Bishop City Hall.