Raymond Mijo "Fish" Milovich
1923 – 2016
A life this large is hard to put into words. Ray lived a life full of love, laughter and storytelling. His vivid memory of history was astounding and with each telling of each story, the details grew broader, the language more colorful, and the laughs were bigger.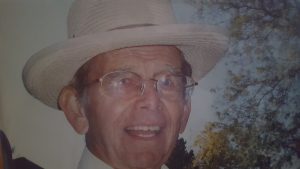 He knew how to set up and tell a story and could talk on almost any subject. The story he rarely told was his own.
Raymond Mijo Milovich was born in Bishop on January 23, 1923 to Mijo "Mike" and Margherita (Serventi) Milovich.
Upon his birth, he was already part of Owens Valley history as a member of the pioneering Rossi clan. He was the first of five children and did not relish his position as the oldest.
Upon hearing of the birth of his youngest sibling, eight year old Raymond lamented "Babies, babies, babies. I'm sick of babies!" Over the years, he continued to complain about having to help with all the "babies" which prompted his grandmother to remark "Oh, you poor little fish". The moniker stuck and he was known as "Fish" for the rest of his life.
After graduating from Bishop High School in 1940, where he was voted "Most Likely to Become a Hermit", he attended Pasadena City College until being called to serve in the Air Force during World War II. He became a Crew Chief for a P-47 "Jug" in the 507th Fighter Group in the Marianna Islands on the island of Ie Shima.
Upon leaving the Air Force, he returned to Bishop to work with his Dad and brother, Robert "Rabbit", at the Milovich and Sons gas station at the south end of town. The business grew and eventually, Ray and Bob started Milovich Brothers and were partners in seven Shell Gas Stations.
In 1955, while delivering heating oil to Convict Lake Resort, he spotted the owner's daughter peeking out from behind a tree. He was intrigued but didn't ask her out on a date for three years.
Once he did, he didn't waste any time, and on their third date, he asked Donna Dolan to be his wife. On December 14, 1958, she became Donna Milovich and in just over three years they had two daughters, Midge and Lisa.
In the 1970's, the brothers retired from the oil business. But after only a few short years, Raymond returned to the workforce as Chief Janitor for his wife when she purchased Spellbinder Books. It was there that he became a barista when they expanded and opened Fish's Talespinner Coffee Bar.
He spent his days pouring coffee (sometimes laced with his personal stash of brandy) and entertaining patrons with his stories.
Raymond passed away peacefully at home on October 16, 2016 from complications of pneumonia.
He was preceded in death by his parents and sisters Mary Goff and Emily Milovich. He is survived by his wife of almost 58 years, his daughters Midge Milici and her husband Tony and Lisa Howard and her husband Greg. His granddaughters Meghan Pittenger and husband Scott, Shannon Stambaugh and husband John, Jamie Wagner and husband Eric, and Demi Milici and two great grandchildren, Gwyneth and Davis. He is also survived by his brother Robert Milovich and sister Christine Goff, sister-in-law Joy Bowles, cousins George Clarkson and Frank "Duke" Rossi as well as numerous nieces, nephews, and Rossi cousins.
A celebration of the life and stories of Raymond will be held at the VFW hall in Bishop on Friday, October 28th at 11:00 AM. In lieu of flowers, please consider a donation to the Bishop VFW or the Laws Railroad Museum.