Press release
RAY T. DUTCHER
A Retrospective Exhibition 1973-2015
The Project Room at Independent Project Press is honored to present Adventures in Visual Thought, a forty-year retrospective of the unique artistic vision of Swall Meadows artist Ray T. Dutcher. This is a very special event, as The Project Room will be exhibiting Ray's entire collection of oil paintings from the past several decades, only a few of which have ever been shown publicly before now.
We almost lost the opportunity to view these tremendous works, as all of the artwork on exhibit could very easily have been destroyed in the Round Fire which swept through Swall Meadows earlier this year, tragically consuming many of the homes of Ray's neighbors. Ray waited as long as he could as the fire approached, but he was eventually forced to evacuate his home and leave behind all but one of these paintings to an uncertain fate. Choosing to take with him his favorite painting as he escaped the approaching flames, Ray spent the night camped in the cab of his truck with the painting resting in the truck bed, exposed to the stormy weather. The next morning he found his way to the evacuation center at the nearby Crowley Lake Community Center, where he learned that his home and all of the rest of his artwork and possessions had survived the fire. Now, after nearly losing a large portion of his life's work, Ray is welcoming this opportunity to share his exquisite artwork with our community.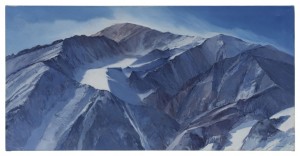 Ray received his Master's Degree in Fine Art from Cal State Long Beach in 1957, and with fellow artist Connor Everts co-founded the Exodus Gallery in San Pedro, California. It was at Exodus Gallery that they mounted early exhibitions of artwork by well-known West Coast artists Wallace Berman, Ed Kienholz and John Wesley. By the early 1970's Ray was part of a group of photorealistic painters working in the Los Angeles area. At that time he created a series of meticulously detailed Sierra landscapes, which culminated in a 1973 solo exhibition at Orlando Gallery in Encino, California. Even though all but one of the paintings in this show were sold to eager buyers, soon afterwards Ray chose to withdraw from the gallery circuit to build his home in the Eastern Sierras and enjoy a slower, more solitary process of creativity.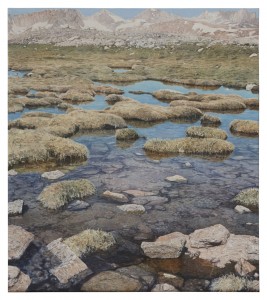 Since his relocation to Swall Meadows in 1990, Ray has worked privately and steadily, evolving his own adventurous visual language, and in the process has integrated a very personal sense of abstraction within the tradition of landscape painting. Ray has developed a highly disciplined painting technique — some paintings may take years of work before he decides that they are complete. "I sit and watch more than I paint," he says, commenting on how he may spend more time contemplating a piece than actually making the changes and advancing it with brush and paint. Speaking of The Passage, his most recently completed painting, Ray commented: "it is a highly scrutinized painting. Every inch is seen."
Ray's paintings go well beyond manifesting his concrete and descriptive grasp of the palette and texture of our local terrain. His paintings reveal a thoughtful dialogue with his deep understanding of modern art history. Ray's years of experience helping to amass definitive examples of 20th Century art for the slide library collections of two California State Universities has contributed to his exemplary knowledge of modern art history. One can see echoes of such masters as Henri Matisse, Paul Cézanne, and Richard Diebenkorn in his work.
Ray has painted many iconic Eastside views, and it is a delight to see these interpreted by his mind and brush. Among the sights included in this exhibition one can revel in the mysterious, misty heights of Mount Tom, the crisp, clear water of a small Sierra lake, the tranquility of a sunny day as a horse grazes in Round Valley before Arcularius Ranch, or even the quiet cast of moonlight upon a sleepy neighborhood in Rovana.
In recent years Ray has transformed several of his landscapes into masterful explorations of space and form, through a process of repainting some formerly photorealistic work with large areas of geometric abstraction. Diagonals and triangular shapes create trajectories which traverse the canvas, directing the eye and altering the perception of the space presented. These images evoke both the primitive and the modern, and impact our interpretation of the material world of land and substance. In Glacier Lake, mysterious triangles and other geometric forms begin to inhabit the space formerly occupied by rocks and water. The geometric landforms found in the foreground of Ray's painting Mount Sill and The Palisade Group seem to suggest ancient monuments from an unknown culture, providing a startling juxtaposition to the majestic Eastern Sierra peaks and the stormy sky above. It is in these most recent works that one finds the unique artistic vision that Ray has mastered in his quest to find meaning and structure in his art. With this body of work, Ray T. Dutcher establishes himself as one of the most unique and important visual artists currently working in the Eastern Sierras.
Ray T. Dutcher's Adventures In Visual Thought exhibition will be on view from Friday, September 25th through Saturday, November 28th, 2015. Please join us during our opening reception for the artist from 5 PM – 8 PM on Friday, September 25th. We are thrilled to have the opportunity to share the artwork that Ray has so lovingly created, and that has been hidden from view for so long. Gallery hours after the opening are from 11 AM – 3 PM on Saturdays, and by appointment during the week. Call or email if you wish to make an appointment, at 760.873.3600 or [email protected].
The Project Room at Independent Project Press is located at 186-A Willow Street, just one block east of Main Street, in downtown Bishop. Curated by Bruce & Karen Licher, The Project Room hosts periodic exhibitions of artwork, photography, and installations reflecting the diverse creative talents to be found in the Eastern Sierras.