Press release
At the recent visitation by Lions International District 4-L1 Governor Sondra Tersigni (left) to the Bishop Lions Club, it was a surprise announcement by  2018-2019 Bishop Lions Club President Paul Bedell (far right) that long-time Lion Ray Miklaucic (holding plaque) was Lion of The Year for his work and service to the Bishop Lions Club, our community, and Lions International's recognition of Lion Ray's being a true example of the Lion motto:  We Serve!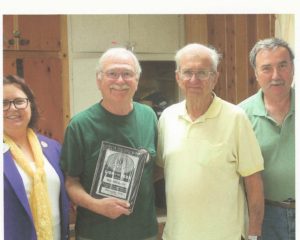 Miklaucic was nominated for this distinction by 2017-2018 Immediate Past Club President AJ Hooper (2nd from right).  Lion Ray has been involved with the Bishop Lions Club in numerous service projects, notably its pancake breakfasts for fundraising for Lions scholarships and helping build handicapped ramps and floating docks giving access to the handicapped; in addition he has taken the chairmanship of revamping  the club's several food service trailers and is one of the club's 2 certified food handlers for food events.
Lion Ray is a retired city of Bishop employee well-known for his smile and always positive attitude!  The Bishop Lions salute Lion of the Year Ray Miklaucic.