A shock treatment that will hurt the community.  That's how Tom Phifer of Big Pine described a proposed sewer rate increase that he says most of the community opposes.  It's an increase that many say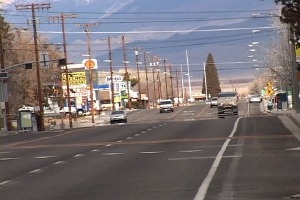 will eat up their Social Security raise – the first one in three years.
The Big Pine Water and Sewer District proposal would raise sewer rates for homeowners by 100% and for Big Pine's 16 businesses by 333%.  The proposal also includes a $10 per month construction fee on everyone.  This would raise $166,500 per year, paid for by 364 residents and business owners, according to Mr. Phifer.
It all started when Lahontan Regional Water Quality Control found the bacteria level unacceptable in Big Pine's sewer system.  Chairman of the Big Pine Water and Sewer Board Kevin Tillemans said the Board hired an engineering firm which recommended a some $400,000 fix.  Based on that plan, the Board sent out notices of a rate hike.  Tillemans said failure to fix the system would result in $5,000 per day fines.  That's currently not happening.
Rates have not gone up for 20 years but expenses have.  The current rate hike, Tillemans said, is the Board's proposal.  He did say they are willing to look at other options. Tillemans explained that the District takes in $68,190 in revenue per year and expenses last year were $100,000.  The reserve account made up the difference.
Tillemans points out that it is a volunteer water and sewer board "running things cheaper than a private company."  He admitted that the proposed rate hikes may sound ridiculous but they would cover the problems.
Mr. Phifer and other residents want to explore a fix other than a completely new sewer plant.  Phifer said the Board never consulted the public on this issue, provided minimal information and limited time.  "It seems like kind of a shock treatment," said Phifer.  He also pointed to figures he verified.  He said the sewer reserve account holds $230,000 and the operating account, $104,000. Phifer suggests use of that money and a more modest rate hike to fix the problems.
Phifer also points to the fact that there are a number of fixed income and social Security residents in Big Pine.  Phifer said for the first time in three years, Social Security will give a 3.6% raise.  "If they pass this sewer rate hike," he said, "they will negate our Social Security raise in one  mighty stroke.  The community can't afford this.  It was not wisely done."
Phifer said he and others recommend a long-term, phased in fix that would immediately take care of the bacteria problem and slowly improve the plant.  He suggests a 33% rate hike for businesses and homes with a $5 per month construction fee – a more modest approach instead of a "brand new cadillac system." Board Chairman Tillemans said the board is open to options but reminds that the sewer plant is 40 years old.
The Big Pine Water and Sewer Board will hold a public meeting on this issue Thursday, November 17th at 7pm at the Town Hall.