Eastern Sierra ranchers and others who rely on use of public lands in their businesses get nervous about bureaucratic regulations and impacts on their livelihoods. The Forest Service says they do not have an agenda to drive ranchers out of public grazing lands.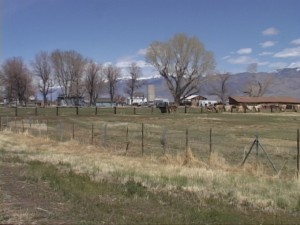 Rancher Ron Yribarren brought up his concerns over the years – questionable management of the Coyote area by the Forest Service, he said, and the anxiety of never knowing what bureaucratic twist may foul up business plans. Two years ago, Yribarren had his cattle and crews ready to go to Coyote and a day or two before his entry date, the Forest Service said, no, you can't go, yellow-legged frogs are dying.
Seems a rare fungus infected the frogs in the Coyote area. Today, the frogs are all gone. The frogs were proposed to be listed as endangered. That sudden denial of access for Yribarren threw a big curve into his operations. Other conflicts with the Forest Service have left Yribarren with an uneasy feeling.
Monday, he met with Forest officials for the annual allotment meeting to discuss plans for grazing. District Ranger Margaret Wood feels Yribarren has a firmer ground to count on. She said they know more about the yellow-legged frog now and can follow a consistent management plan in Coyote.
To ranchers concerns about forest policies and grazing, the Forest Service information's Nancy Upham said that one of the things they manage for is grazing. She said the agency is not functioning on outside environmental agendas. Upham said, "We truly do not have an agenda against grazing. We want to allow the continuance of their business."