This summer several ranchers in the Bishop area say they did not get their allotted irrigation water from DWP. In one case, the rancher had to dry up two big pastures. DWP Chief Gene Coufal points to a dry spring and a first-time water measurement program.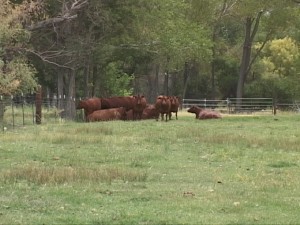 Daris Moxley, whose family has held a DWP ranch lease for many decades, began to ask questions this summer when it seemed to her that her ranch was shorted by quite a bit of water. As of Friday, Moxley said she still did not have figures she had requested on how much water she has received. She maintains that DWP is not living up to the water agreement which does demand irrigation of ranch lands.
DWP Manager Coufal says DWP is not exporting more surface water out of the Bishop area but has seen lower flows of available water due, he believes, to two dry years in a row. Coufal also said for the first time, DWP used a measurement system of the water in the west Bishop area. He said DWP is trying to "tweak the delivery to make sure the 5 lessees get their 5 acre feet of water."
Coufal said he believes Ms. Moxley will get her 5 acre feet or slightly less by the end of the season. Moxley doesn't think so but said she still needs data from DWP.
So far, the Inyo Supervisors, parties to the water agreement, have shown no interest in the ranchers' water dilemma. Supervisor Bev Brown has talked with Ms. Moxley but told KSRW the issue would not go to the full board.