RALPH WALTER CONNOR July 1924 – January 2016
On January 22, Ralph passed away at Northern Inyo Hospital. He was preceded in death by his parents, George and Lila Connor; brother, Robert; sisters: Laueerne, Edith, Norma, and Alice.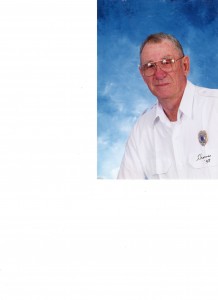 He is survived by his wife of 71 years, Bernadine and three children: Janice, Webb, and Tom. Mike Connor and Dana, and Linda Macejunas and James; Sisters: Doris, Mildred and Judy. Seven grandchildren, four great grandchildren, and three great great grandchildren.
Ralph was born in Toledo, Ohio and lived in that area until his teens and the then the family moved to Lambertville, Michigan. He enlisted in the Navy early in WWII and spent three years in the South Pacific.
When he returned home on leave, he married his high school sweetheart Bernadine known to all as "Barney" Together they raised three children. They moved from Michigan to Hawthorne, CA in 1962 where Ralph worked for Zinsco Electric and later retired from United Airlines.
In 1982, Ralph and Barney retired to Big Pine and joined the Big Pine Fire Department. He helped there for fifteen years.
He loved cars. He restored a number of Model A's and a 1965 T-Bird for his wife. He loved his family and that love was returned tenfold.
A celebration of his life will be held at a later date.