By Deb Murphy
Inyo residents showed their support for area dreamers at a rally in Bishop City Park Wednesday evening.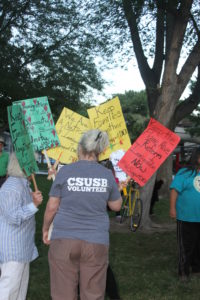 The crowd of more than 150 included supporters of the Deferred Action for Childhood Arrivals as well as those impacted by the policy initiated by the President Barak Obama administration in 2012. Those who gained legal status through the policy are now threatened by Donald Trump's announcement the policy will be scrapped in six months.
The working theory is Congress will pass some form of protection for those brought into the country as minors before the policy expires. Since Congress hasn't been able to do that in the last five years, the Dreamers, as they were identified by Obama, face an uncertain future.
The rally was organized by INYO350, the Sierra Club and others. Postcards were passed out and those in attendance were encouraged to send a clear message to Rep. Paul Cook: save the Dreamers, give them a path to citizenship.
Stephen Muchovej opened the rally with background information on DACA, ending with a call to "fight to keep the Dreamers here."
Virginia Figueroa, who also served as Spanish translator for most of the speakers, told her story, a life transformed by DACA. She came to the country as a child unable to speak English. The 2012 policy opened up new job opportunities, she enrolled in Cero Coso Community College, bought a home, provided a good life for her son and now watches as "the dream is crumbling."
Deanna Deanna Campbell, director of the Eastern Sierra College Center, assured those in attendance the California Dreamer Act would continue to provide scholarships to those impacted by DACA's possible repeal.
Supervisor Jeff Griffith delivered his contribution to the rally in Figueroa-assisted Spanish and English, pointing out what made Owens Valley "values" unique. "We're a frontier," he said. "We're more united, more integrated because we're forced to be. Our kids and some of us have gone to school with Dreamers. We work with Dreamers, we stand in line at the grocery store with Dreamers. We all benefit from Dreamers."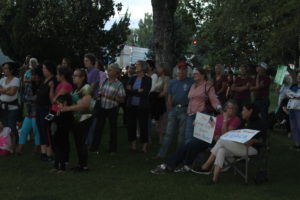 The final speaker, Jose Garcia, emphasized the importance of the Dreamers to the country and county's economy, ending with a call to both voice support and vote.
The most recent DACA news on the national level appears to hold the Dreamers hostage in exchange for the border wall.