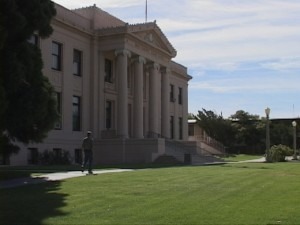 Since July, the Inyo County Planning Department has focused on an update of the General Plan and the Zoning Code.  Some of the information discussed at meetings has filtered out to the public.  Residents have begun to contact Sierra Wave Media with concerns about much more restrictive regulation when it comes to use of private property.
Inyo Planning Director Josh Hart said planners have focused on code enforcement and will turn to special events.  The Board of Supervisors had pointed to those two areas. Planners have worked on code enforcement language that would be enforceable by the County Counsel.  Director Hart said several high profile cases involving residential property use or misuse went unresolved by the County and the District Attorney did not prosecute.  This caused a greater focus, he said, on code enforcement.
On the other hand, there are those concerned that a more pro-active code enforcement might not be the best solution for the entire County, particularly remote, desert areas.  Hart said one way would be to create different zoning districts which make sense for the particular area.  Hart said there are "on the ground differences."  He pointed to West Bishop compared to Keeler as an example.
Although officials had talked about merging R-1 and RMH – Residential Mobile Home – districts, Hart said they will keep them separate and only apply some new restrictions to R-1.  But he was also quick to say all of this is very preliminary and will go to public comment eventually.
Planners have proposed a Code Enforcement Committee with the power to levy fines for failure to obey the codes.  Hart said they have not addressed street parking but are looking at restructuring long-term parking.
Proposed rules do not allow repair of vehicles in front or side yards for more than 30 days, In R-1 zones, no vacant or undeveloped parcel would be allowed to store vehicles, rubbish, building materials or junk for more than 90 days.  In all zones, no habitation of RV's would be permitted for more than two weeks.  Also, in all zones, building materials for use on the same parcel could be stored there during the time for construction.
There are many other details proposed for change.  The next discussion on these issues will happen at the January 23rd Inyo Planning Commission meeting in Independence.  Information is available online at inyoplanning.org or you can call the Inyo Planning Department at 760-878-0263.