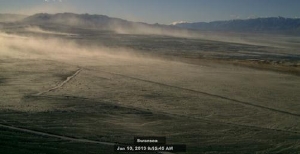 With last minute surprises from the Los Angeles Department of Water and Power, the Great Basin Air Pollution Control Board met recently in Mammoth Lakes.
The APCD Board had approved a Term Sheet which required crafting of a draft settlement agreement on taking care of dust at Keeler and another three square mile area. Records show DWP had agreed to do this in 2006 and missed the deadline. APCD Director Ted Schade said DWP could not have more time. They appealed that decision to the Board.
Both sides agreed DWP would come up with money to offset air pollution from Keeler if they got more time. This required an amendment of the State Implementation Plan for Owens Dry Lake. All seemed to move ahead until last week when DWP lawyers opposed the plan amendment. DWP reportedly wanted some relief from air quality laws while they change dust controls – from water to something else.
When asked to respond to this DWP desire, Director Schade said, "The wording of the LA proposed for the Implementation Plan amendment was illegal. The Clean Air Act prohibits relaxation of air pollution control plan requirements." Schade also said that if LA proposes a modified transition policy that protects air pollution provisions in place, the APCD should consider it.
The APCD Board ordered Schade to come back at the first of the year to give DWP some flexibility. Some said they felt that Inyo Supervisors Linda Arcularius and Matt Kingsley were going along with DWP and more air pollution.
Linda Arcularius never returns our calls. We did speak with Matt Kingsley who maintained that "I'm not for letting them put more dust in the air." He said APCD can not relax requirements that are state mandated. He did say that APCD could consider increasing the area to which they transition clean up methods. He said DWP proposed changes at the last minute and that the Board needs recommendations in a report.