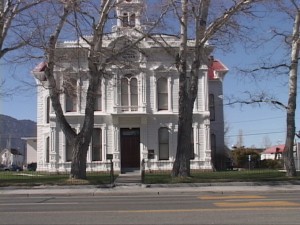 Attorney Katie Bellomo who represents a fired Mono County mechanic in a wrongful termination appeal, said what should have been a simple personnel hearing has grown complex and lengthy.  She thinks part of the reason is that Mono officials are "used to controlling the personnel process.  They have not had this level of resistance," she said. "I don't know when a personnel hearing has happened in Mono County in the open with a lawyer."
It's happening now, and after a few days of the open, public appeal hearing of Dick Luman, it was revealed that Mono Sheriff's Deputy Mike Hanson had investigated a reported physical fight between Luman and Road Operations Supervisor Brett McCurry which led to the firing of both men. The fight happened at a meeting to discuss problems with McCurry. Deputy Hanson spoke to eye witnesses, closed his investigation and had it signed off.  Luman's attorney, Bellomo, said the Deputy had concluded that McCurry was the aggressor.
Then, she said, higher levels in the Sheriffs Department got involved. Deputy Hanson was required to review reports on the incident by the County's Insurance investigator, York Insurance.  A Mono Sergeant said he was ordered by Lieutenant Rob Weber to give the insurance company report to Deputy Hanson to re-open his investigation. The insurance report showed one witness had changed his statement, calling Luman the attacker and not McCurry. This witness was Jerry VandeBrake, a Supervisor in Public Works who had heard complaints about McCurry's aggressiveness and bullying but never documented them. Before questioning by the insurance investigator, VandeBrake had reportedly told Deputy Hanson that he could not see who started the fight.
Mechanic Mike Rhodes had testified that he saw McCurry throw Luman against a tool cabinet and pin him down.  Jim Kirby made a statement under oath that he saw McCurry start the fight and assault Luman.
Bellomo said, "The county's argument is all supposition based on their choice not to believe eye witnesses."  Bellomo says it looks like the County is trying to first maintain control of the situation instead of looking for the facts and the truth of what happened.
Mono CAO Jim Arkens testified that Rita Sherman in Administration delivered the insurance investigation transcripts to the Sheriff's Office.  Bellomo still feels that Undersheriff Ralph Obenberger, who sits on the Appeals Board along with Tim Hansen and Ken Goode, has a conflict of interest since, Bellomo said,  "Actions of his department and men are central to the case." She also expressed concern about the insurance company report which might have a financial bias in favor of the County's position.
Bellomo said, "Rather than conducting an objective evaluation of this situation, the County wanted a certain result."  When asked why his Administration wanted the investigation re-opened for the insurance company report, Mono CAO Jim Arkens said, "I was told it was common practice."  He said Rita Sherman of Administration took the report to the Sheriff.
Now, public speculation over the potential of poor personnel investigations has led to an old lawsuit involving County Administrator Jim Arkens and an employee termination in New Mexico 8 years ago.  Arkens says it has nothing to do with the current Mono County case. Luman's attorney, Katie Bellomo said the New Mexico case could be relevant if Mr. Arkens were involved in the investigation and appeal hearing.  She called it the same style of personnel issue.
The New Mexico case centered around Holy Cross Hospital where Arkens was the Human Resources Director.  It was a case that involved termination, appeal, arbitration and reinstatement of a nurse related to an infant death. Court documents quoted the arbitrator as saying the investigation of the incident by the hospital was similar to a "kangaroo court" and a "hanging."  Asked if he were responsible for this investigation and hearing, Jim Arkens said he prepared documents for the hospital attorney and for the arbitration case.
Does he have a history of poorly prepared personnel cases, including the current one?  Arken said he had very little to do with the Holy Cross case.  He had only been employed there for two months.  He said that at the hospital, officials could not use what's called the peer review process as part of the investigation of the nurse.  Instead, they used interviews of people involved.
As for the reported bullying of workers by McCurry and the potential for a hostile work place maintained by the County, Arkens said that "swearing is not uncommon in a male dominated work place."
This issue will go back to hearing on May 16 in Bridgeport.