Out where lots of things are old something new hit, literally. Earthquakes centered in the Laws area, home to the Laws Railroad Museum, north and east of Bishop.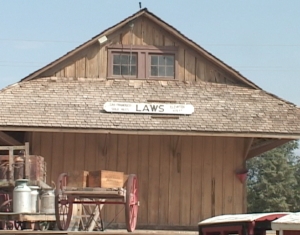 Sierra Wave received reports from citizens that they felt another quake early Saturday morning. U.S. Geological Survey had not documented that report but did confirm a series of quakes that started Wednesday, March 2 with a 3.1 in the evening.
Another quake hit Thursday afternoon around 3pm in the same area, 3 miles north-northeast of Bishop which is Laws. That quake registered 3.6, according to USGS. Numerous aftershocks rolled in in the 1.5 to 2.5 range. Law enforcement did not report any calls about damage. At Laws Railroad Museum people there said they felt "a nice jolt Wednesday night. Not too long, just a steady jolt."
Other reprots said that students and staff at Cerro Coso College west of Bishop felt a long rolling quake at the same time. Some said the quake rolled through slowly enough that blinds rattled one room at a time. As one local woman said, "It was a reminder that Nature is in charge." Many in the Bishop area remembered the last significant quake activity which hit Chalfant Valley and Mammoth Lakes in the early 80s.