With the early season trout opener this weekend, DWP crews are expected to help Inyo County staff inspect boats for the invasive quagga mussels at Diaz Lake, near Lone Pine.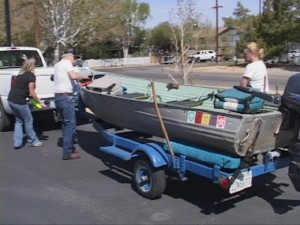 Every year, visitors and locals head to Southern Inyo for the early trout opener at Diaz Lake, but the rapidly reproducing fingernail mussel means boat inspections. At the Inyo Supervisors meeting today, DWP and County Staff told the board of their plans to coordinate efforts at Diaz this weekend.
For those who brought boats to the Eastern Sierra during fishing season last year, these boat inspections should come as no surprise. The Department of Water and Power has zero interest in seeing these aquatic pests infiltrate Eastern Sierra waters.
Officials ramped up efforts to stop the spread of these creatures that were found in Lake Mead and waters in California. With drastic consequences possible for the water supply and fisheries of the Eastern Sierra, DWP Biologist Brian Tillemans told the supervisors we cant afford to be complacent.
Tillemans explained that other areas had seen lakes closed to boats and anglers in order to stop the spread of the mussels. Of the boat inspections, Tillemans said they are an inconvenience to the public but a reality that needs to be done.
DWP staff will help Inyo County inspect boats that come to Diaz this weekend, after that, how the county will be able to continue the inspections is yet to be seen. Inyo Parks and Recreation Director Chuck Hamilton told the supervisors that the county doesnt have the staffing to continue the inspections full time. The longer term issue will be back at the board next week.