To help prevent the spread of the invasive quagga mussel, LADWP will be requiring boat inspections for Crowley Lake again this year.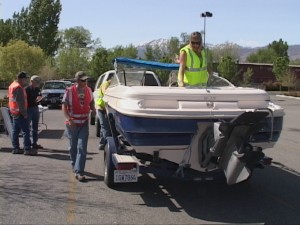 The boat inspections have become routine since the quagga was first found in California in 2008. The tiny, but rapidly reproducing mussels are said to clog up water works, pipes, and machinery. To keep these pests out of the local waters, DWP staff requires inspections of any boat headed to Crowley.
This year, Department staff is starting the inspections early to help anglers get their boats into the lake in a timely manner.
All motorized vessels planning to launch at Crowley Lake must enter through the main gate at the South Landing and must be inspected. In Bishop, anglers can have their boats inspected starting on Wednesday at the Vons / K-Mart parking lot in Bishop between 7:00 am and 7:00 pm. The hours are the same on Thursday, but on Friday the inspections at Vons last until 10:00 pm.
Also on Wednesday you can have your boat inspected at Crowley Lakes South Landing, between 8:00 am and 5:00 pm. The hours change to 7:00 am to 7:00 pm on Thursday and stay that way for the rest of the season.
Boat inspections are required at Crowley Lake and Diaz Lake near Lone Pine; but for other waters in the Eastern Sierra, preventing the spread of the quagga mussel is up to the boater. Fish and Game officials ask people to keep their boats, clean, drained, and dry.