Citizens who want to keep Klondike Lake open have found the Inyo Supervisors' help less than effective but sized up the Bishop City Council as more sincere.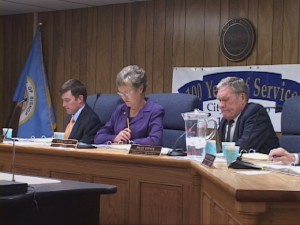 Councilman Bruce Dishion had earlier made a statement that perhaps the Council should directly support keeping Klondike open for recreational boating. DWP had closed down the lake for all but three days per week in the summer. LA officials said that they had to control motorboats because of the risk of Quagga Mussel infestation.
Two Inyo Supervisors have met with DWP's Clarence Martin to work out better access. When this issue last came up before the Supervisors, they seemed mostly impatient with the Klondike supporters.
Monday night, the City Council seemed more supportive. Russ Markman of the Save Klondike Committee stood up and offered "Sincere Thanks" to Councilman Dishion and the whole City Council who did approve sending a letter to the Inyo Supervisors and to DWP urging them to support efforts to keep the lake open.
Dishion said that Klondike is a valuable asset to the people of Bishop who like to recreate there.