With a new Town Council elected in part to take on the Mammoth Town budget, the troubled ice rink has come to the front burner.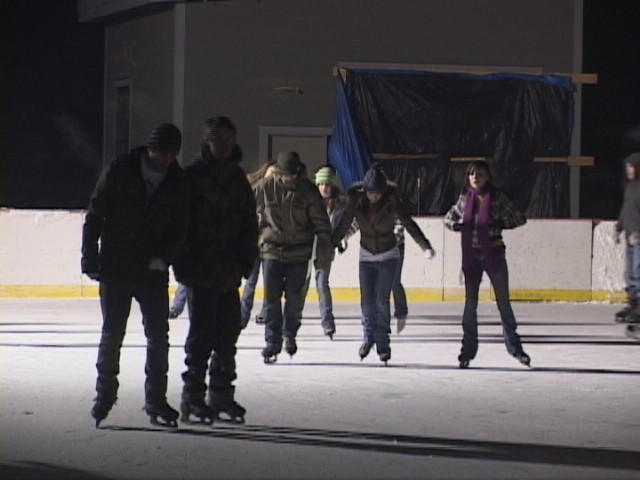 The Town owned ice rink next to the new library has had trouble staying open at times during the winter due to old chilling equipment and a lack of a roof, but recently the Mammoth Town Council pointed to other trouble at the rink. This time the trouble is financial.
None of the council members had anything good to say about the situation that Councilman John Eastman described as a financial nightmare.
The town leases the land for the ice rink from the Mono County Office of Education and the Mammoth Lakes Unified School District. Currently the Town is in violation of that that lease because the ice rink project was supposed to be finished in 2008. Town staff and the schools had worked out a lease amendment that would give the Town more time to finish the ice rink, but the Town needed to spend about $28,000 on a new fence for the rink this year.
The money for the fence had already been set aside to do the job, but the major concern for council members was the cost down the road. Councilmember Mathew Lehman summed up the issue when he said that he was, not excited about spending several million dollars to build something on leased land. The Tourism and Recreation Commission had already agreed with this sentiment, recommending that the Town try to buy the land at the ice rink.
The Town currently pays $42,000 a year for the lease, which will add up to $750,000 at the end of the 20 year lease. In order to take advantage of a $500,000 state grant to build a concrete slab and base for the rink, the Town will have to match the grant with $350,000. Adding a metal roof to the ice rink facility will likely bring the total cost up another $1.4 million dollars. If the Town bought the land, the cost might rise to a total of $4.4 million.
Left to decide whether or not to walk away from the ice rink and lose the money already put into it, or to continue to spend the money needed to finish the job and possibly renegotiate to purchase the property, the Council decided to put off any decision for the time being to more fully investigate the options.