LMNO productions spent many months in Mammoth Lakes with Steve Searles to shoot new episodes of the show, The Bear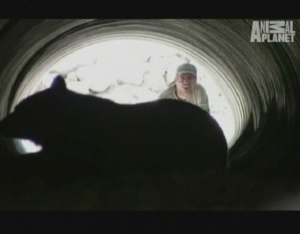 Whisperer, that airs on the Animal Plant Channel. The latest news says at least three new episodes will air this spring with the first new show on TV April 7th.
Last year Animal Planet aired a two-hour special called The Bear Whisperer. Ratings went high and so the channel negotiated a follow-up series. The shows feature Mammoth Wildlife Specialist Steve Searles and how he manages the bear population in and around the town.
The adventures in the new series re-visit some familiar bears who return to Mammoth every year like Ace and Half-Nose. According to a press release, other Shows highlight bear cubs, big bears and the Blondie incident.
The shows air April 7, 14, and 21 at 10 pm on Animal Planet. Check it all out at www.thebearwhisperer.com.