Last weekend the Eastern Sierra Agility Group held their first annual agility contest. The group is a competition-oriented collection of enthusiastic dog owners from the Bishop and Mammoth area.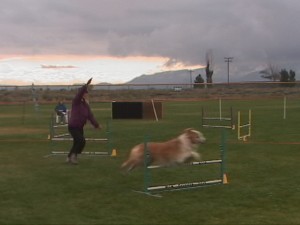 The Eastern Sierra Agility Group has been training with the mdt/Agility Ability Group from Reno, Nev. and they are just beginning to spin off into their own thing. Mdt/Agility Ability was present at the competition and enjoyed taking part in the weekend's events.
The competitions are run under the rules and regulations of the North American Dog Agility Council. As part of these rules competing dogs are not allowed to see the course that is set up until they are ready to run it as part of the competition. Dog owners are only given a chance to review the course for a few minutes right before the competition begins. It is up to the owners to call the correct commands at just the right time to lead their dogs cleanly through the course.
The competition was held at the Whitmore ball fields, and all the competitors agreed that with the spectacular views and level, fenced-in grounds it was the perfect spot for the competition.