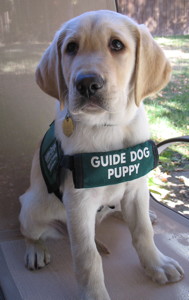 Eastern Sierra welcomes new Guide Dog puppy
An adorable yellow Labrador retriever Guide Dog puppy named Filbert is becoming a familiar sight in Mammoth Lakes.  Filbert recently joined the household of puppy raiser Leigh Gaasch as her third Guide Dog puppy.
Raising Filbert is a special treat for Gaasch, who also raised Filbert's mother, Jaymin.  Jaymin was selected as a breeder by Guide Dogs for the Blind last year, and had her first litter of puppies in August, 2013.  "Filbert is much like his mother, Jaymin" said Gaasch.  "Both are loyal, eager to please and full of love to give."
Falana, the second puppy Gaasch raised, is currently in advanced training at the Guide Dogs for the Blind campus in San Rafael, CA.
There are two other Guide Dog puppies being raised in the Eastern Sierra.  Mammoth local Anne Parkes is raising yellow Labrador retriever Javier.   Black Labrador retriever Eiger is being co-raised by two Bishop couples, puppy club leader Betsy Thomsen and her husband Peter, and Nona and Marion Davis.
Eastern Sierra Guide Puppies club meets monthly in Bishop, and the club members socialize their puppies on outings throughout the Eastern Sierra.
Guide Dogs for the Blind uses yellow and black Labrador Retrievers, Golden Retrievers and Lab/Golden crosses as guides.  The puppies are born at the Guide Dog kennels in San Rafael and placed in the homes of volunteer puppy raisers when they are 8-12 weeks old.  The puppy raisers teach their pups basic obedience, socialize them and train them to be good canine citizens by introducing them to new experiences.
The pups are returned to Guide Dogs for formal guidework training when they are 14-18 months old.  Following the completion of the training, the dogs are matched with blind students enrolled at the school.  The new person-dog team completes an intensive in-residence course culminating with a graduation ceremony at which the puppy raiser formally presents the dog to the dog's new visually impaired partner.
Guide Dogs for the Blind has been creating life-long partnerships in the community by providing Guide Dogs free of charge to visually impaired individuals since 1942.  The organization receives no government funding but depends entirely on private donations.
For more information on the Eastern Sierra puppy raising club, please contact Betsy Thomsen at  760-920-8891 or [email protected] Additional information on Guide Dogs for the Blind may be obtained by visiting www.guidedogs.com